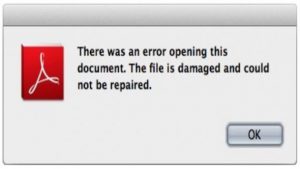 PDF files are popular document file formats that are extensively used over the internet. PDF files are mainly created using the Adobe Acrobat software. As they can be accessed in almost all OS platforms, you can see them in use everywhere. If you are wondering how to fix corrupted files of the PDF type, know that the main reason for corruption is improper download of the file. Here is how you can go about fixing a corrupted PDF file.
Instructions
Delete the PDF file from the computer. You can either delete it by using the Delete key, and then empty the Recycle Bin or delete it permanently by selecting the file and then pressing the Shift + Delete Now, you need to download the file again from its original source. Wait until Acrobat downloads the file completely. Try opening the PDF file once it is downloaded.
Uninstall the Adobe Acrobat For this, open the Start menu and click on the icon for Control Panel. Once the Control Panel window opens, locate the Adobe Acrobat program from the list of installed programs and click on Uninstall. Follow the prompts that appear in the next window. Wait until the program is completely removed from the computer.
Restart your computer now. Open the Start menu and then select the Restart button that you see among the power options. Once the computer reboots, go to the adobe.com website, navigate to the Downloads page, and locate the link for downloading the latest version of Adobe Acrobat Reader. Save the installation file in a preferred location and run it. Follow the prompts in the installation wizard to complete the setup.
Open the same web page from where you got the corrupted PDF file. Download the file and make sure that it completes the process completely. Try opening the PDF file. It should work now; if not, proceed to the next step.
Download a PDF Recovery program from any reputed site. Install it after downloading the setup file and follow the prompts shown. Run the program and proceed as instructed to repair the corrupt PDF file.
These instructions explain how to fix corrupted files of the PDF type. Make sure that you update the Adobe Acrobat program regularly to prevent issues with PDF file types in the future. You may choose to enable automatic updates for your convenience.