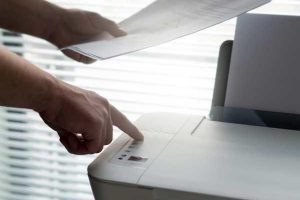 Most people, especially working people, are highly reliant on their printers. Any errors or problem with these printers will affect their work as well as time badly. One of the common problems with most inkjet printers is the presence of white lines while printing. Fortunately, there are some good troubleshooting methods to tackle this issue. Some of these are given below.
Execute the Clean Program on your Multifunction Printer
One of the main reasons for the presence of white lines on your documents is the clogged up or congested printer head. So, the primary step you must take to tackle this error is run a cleaning program. The steps you must follow to run this program are given below.
Go to the Settings menu of your printer, if it has an LCD screen on it. Otherwise, go to the Devices and Printers options on your PC, where you can access the Settings and run the cleaning cycle.
After the cleaning cycle step, try printing some documents or photos to check whether the problem of the white lines is fixed or not.
Furthermore, keep in mind that you must not run repeated cleaning cycles, as that will clog the printer heads even more.
Try Removing the Ink Cartridge and Cleaning

If the problem is not with the printer head, the next action you must take is to clean the cartridges in your printer for any other damage. The steps for cartridge cleaning are given below.
Open your printer cartridge door and remove all the cartridges, one after the other. Remember to check for any leaks or cracks while doing this.
Replace your cartridge if you find any serious damage or leaks. Besides, there are chances that your cartridge has dried ink blockage. In such cases, clean the cartridge head gently with a clean cloth or a cotton bud, in order to remove any ink globules present in it.
Additionally, clean the interior of your printer as well for any ink spillage, in order to avoid the chances of smudging while printing.
After this, run the cleaning cycle on your printer as mentioned above, and also check the results.
If you couldn't address the issue with this step either, it is better to consult the manufacturer or a professional.
Extra Tips to Tackle Printer Errors
Replace your ink cartridges if your printer works are looking faded.
Make adjustments in the printer settings in order to recalibrate the contrast and exposure of your printed documents, and also to eliminate haziness from your photos.